The network of International Gemological Laboratories (IGL) provides professional gemological services and grading certificates for diamonds, jewelry and gemstones worldwide. Our team of knowledgeable, professional and highly skilled gemologists use advanced equipment, including devices for the identification of natural diamonds, and also diamonds that have undergone improvement treatments, and laboratory grown diamonds.
PHOTOGRAPHIC STUDIO
Professional photography images and video clips for jewelry, diamonds and gemstones. International-class videos with advanced 360-degree technology (180 degrees per side). The videos are also viewed on the online certificates and can be downloaded directly to your computer or received by email or viewd on-line, uploaded to your site, portals for sale on the Internet, display in the store, media and advertising. You can add a logo for your business. The photographic options are various! Background black, white, cream, stone, gray.
Even different photographic techniques to choose from!
LASER INSCRIPTION
For a small additional fee, diamonds receiving an IGL Diamond Grading report may also have their ID number laser inscribed on its girdle. Additionally, all diamonds may re ceive an inscription of a specific brand or company name or a personal message for the customer. (This service is considered as extra service and is not included in the IGL basic grading service pack.) Lab grown diamonds automatically receive an inscription, identifying them as such.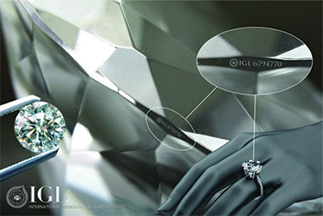 SEAL
The IGL sealing system is the best way to ensure your diamond is not replaced, cracked or broken when the diamond is not yet set in jewelry or in your possession. Once IGL has issued a diamond certificate, at your request the diamond is sealed in a box with the IGL ID number  the diamond box is secured with several security features, including electrostatic security bars, transparent pressure-sensitive adhesive and encrypted text which becomes visible only after opening the box. Therefore, the box is completely sealed and secured which ensures your peace of mind.
MELEE
SEPARATED NATURAL, UNTREATED DIAMONDS FROM SIMULANTS AND POTENTIALLY SYNTHETIC OR TREATED DIAMONDS AND SORTS THE SCREENED DIAMINDS BY COLIR RANGE.
SUBMSSION GUIDELINES
MELEE 0.9 TO 0.4 MM (APPRIX 0.005 CT TO 0.25 CT)
D TO Z DIAMONDS
ROUND SHAPE ONLY
MINIMUM SUBMISSION PUANTITY 500 STONES
AVAILABLE AT A REASONABLE COST.
Online Repord
you can whatch and verfy your IGL certificate on our site.
MY IGL
Manage the status of your diamond, jewelry and gemstone,  view & download PDFs of your IGL reports.