Academy parallax text - en
Professional courses in the field of diamonds that prepare you for success
03-5757545
Courses block - igl college page en
G.D.G -DIAMOND GRADER
Gemology course gives students with extensive, thorough when it comes to sorting and evaluation of diamonds. Using the most advanced equipment for diagnosis diamond.
More Details
Rough Diamond Courses
Gemology course gives its students a wide and in-depth knowledge regarding the identification of crystal diamond in the rough.
More Details
Gems Courses
Gold gemstones course provides extensive and in-depth knowledge about the gemological avoid burns precious- stones , gem identification features and differentiation between natural stones and synthetic
More Details
Our lecturers
Arieh Salon - Polished diamonds, rough diamonds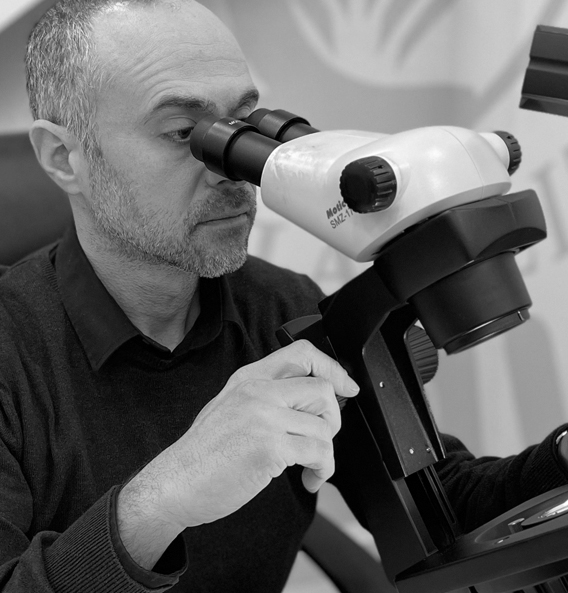 Avraham Niv - professional manager, polished, rough, gems.
Academy about us - en
ABOUT US
The IGL network operates the prestigious IGL College, which offers gemology students a variety of educational options:
Polished diamonds
Rough diamonds
Colored gemstones
The professional courses led by industry grading experts are held in a pleasant work environment. The IGL College enjoys state-of-the-art equipment, and the content is presented via lively presentations with examples of diamonds on hand to make the course thoroughly lifelike.
The college classes ensure that each student reaches a professional level of gemology and grading. Our graduates are taught the material on both the theoretical and practical level to enable their quick professional integration into the fascinating world of diamonds and gemstones.
In the framework of the studies:
Each student receives study materials in which the IGL textbook is available only at the college and a professional workbook.
The Work kit (loupe, tweezers, cloth and other materials) can be purchased via the college at a special price for students.
Each course has up to 12 participants to ensure that each student receives the maximum personal attention.
We teach the course according to the high professional standards of the GIA.
It is possible to study privately.
We offer the possibility of studying in different languages.
View: Testimonials: Block testimonials en
I'm Michael Rafael, 60, a graduate of IGL Diamond College,
Polished Diamond Course, I arrived with no previous background in diamonds.
Currently engaged in the field of jewelry, import and marketing. I also completed my studies at IGL College Highly recommend studies at the college hence the correct and short breakthrough !!
Michaeli Raphael
Yossi, 23, I graduated from college a year ago, opened up to me opportunities I knew existed.
Today owns the Duek Diamonds brand.
Yossi Duek
2019 Graduate of Polished and Raw Courses of IGL Diamond College.
highly recommend. Professional studies, I got all the tools I needed to get into the industry. No previous industry background.
Currently in Los Angeles, a partner in global entrepreneurship as a company in the field of rough diamonds, buying polishing and selling to business owners in the jewelry industry.
Sales to private customers, design jewelry models
Aaron Ashtamkar